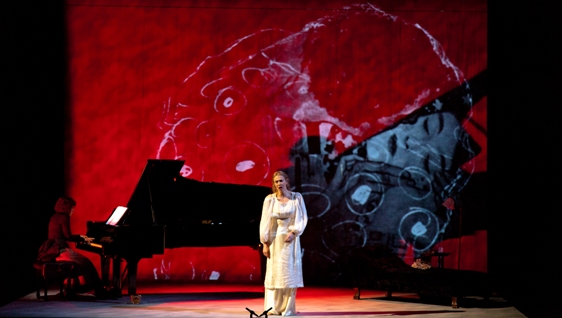 In the Garden of Dreams (2013)
World premiere: Friday, May 3 and Saturday, May 4, 2013
Cullen Theater, Wortham Theater Center
Concept and direction: Sarah Rothenberg
Projection and video design: Sven Ortel
Lighting and set design: Marcus Doshi
Original performers: Charlotte Hellekant, mezzo soprano; Michael Sumuel, bass-baritone; Sarah Rothenberg, piano
Presented in collaboration with Houston Grand Opera's new production of Wagner's Tristan and Isolde.
"For a long time a form had been in my mind which I believed to be the only one in which a musician might express himself in the theatre. I called it, in my own private language, making music with the media of the stage…" – Arnold Schoenberg
An imagined Viennese music room where a solitary pianist plays Brahms's last works gradually transforms into the symbol-rich garden of Schoenberg's The Book of the Hanging Gardens. Drawing on Freud's The Interpretation of Dreams, Strindberg's A Dream Play, Max Klinger's Brahms-Phantasie and the sensual paintings of Gustav Klimt, In the Garden of Dreams moves from dawn (late nineteenth-century) to the dark of night (1908), from a protected Viennese interior to a decaying landscape where Schoenberg's haunting monodrama, The Book of the Hanging Gardens, reaches its shattering conclusion as reality, dream, memory, and hallucination merge in the mind of an obsessed lover.
Press:
"Sarah Rothenberg Unravels Darkness of Human Psyche in Love-Obsessed Multimedia Spectacle…Rothenberg sketches a bewitching milieu that injects additional high octane, inner psyche turmoil to intensify haunting pieces by Arnold Schoenberg and Johannes Brahms; art by Max Klinger and Gustav Klimt; and the writings of Sigmund Freud and August Strindberg…In essence, what Rothenberg's In the Garden of Dreams accomplishes is to demystify music's journey from the harmonic tradition of Brahms, the symbolism of Wagner and into a new tonality in the hands of Schoenberg." – Culturemap.com
"No one word can sum up In the Garden of Dreams – the latest in a series of boundary-crossing performances devised by Sarah Rothenberg" – Houston Chronicle
Photograph by Sven Ortel